News about our Federation
NOVEMBER 4TH, 2017: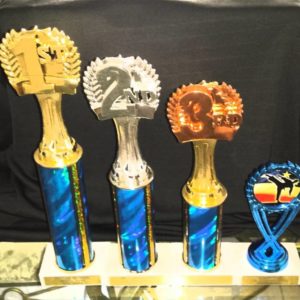 The Third Annual 1WMAF Inclusive Open Martial Arts tournament will be held in Cedar Park, Texas from 2-6 PM.  Sponsored by the 1WMAF and hosted by founding school One World Karate, the tournament will be open to all empty hand and weapons forms from all systems, and have divisions for competitors of all abilities.
To see more go to the ONE WORLD KARATE WEBSITE
AUGUST, 2017:
August 25-27, The 1WMAF will be conducting a certification training and seminar in the Dallas / Ft. Worth area.    The seminar will be hosted by Beyond Karate, and their instructors will be receiving level one certifications.  If you are interested in attending the certification, please contact us soon as spaces are limited.
admin@1wmaf.org
512-804-8103
JUNE @26TH, 2017:
1WMAF Fundraiser!  We are hosting a fundraiser at Amy's Ice Cream and Phil's Ice House in North Austin.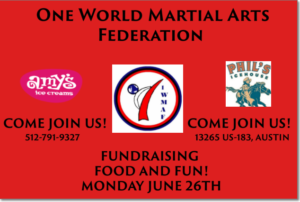 WHERE:  13265 US – 183, Austin, TX at Amy's Ice Cream and Phil's Ice House
WHEN: Monday, June 26th  – ALL DAY.
WHY: To raise funds for training local member schools, scholarships for disadvantaged youth, and purchase specialty equipment for disabled and special needs students.
HOW IT WORKS: Go to Phils and Eat!  Go to Amy's and have desert!  Bring the family, invite your friends, and have a great time!
Just do one thing for us:  TELL THEM YOU ARE THERE FOR THE 1WMAF!
That's how we earn our funding from their daily sales receipts.  Thanks and see you there!